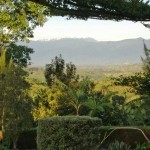 Kahangi Estate is a working model and training centre for sustainable organic agriculture situated in the foot hills of the Rwenzori Mountain range in Western Uganda. Sustainable farming is critical to supporting the expanding population in Africa and Kahangi Estate has developed a unique system that is not dependant on external inputs, applicable to large and small farming units. The farm borders Kibale National Park, 760km² of primary tropical rain forest near the District town of Fort Portal. The commitment of Kahangi Estate to preserving this treasure is reflected in its land management policies for reducing its impact on the environment. Natural Products Made Naturally is the ethos of the farm in principle and practice.
Organically Grown Crops – Sustainably Processed Products
Green Tea and Arabica Coffee and a wide range of oil crops are organically farmed and all our products are sustainably processed on Kahangi Estate. Natural Fixed Oils and Pure Essential Oils are also blended on the Estate into a range of Natural Skin Care Creams and Soaps. As well as its refreshing, pleasant flavour, the health benefits of green tea are well known. The uses of natural fixed oils range from cooking, salad oils and scents to skin and hair care. Essential oils have been used for thousands of years for their natural healing powers and are blended into our products. We describe the known benefits in more detail on our Kahangi Estate Organic Natural Product pages.
Sustainable Farming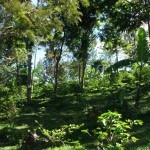 Kahangi Estate uses green energy, a combination of solar power and its own bio fuels to provide sustainable power generation and low carbon emissions. Sustainable farming practices include intercropping, zero tillage and On farm processing which enables the organic 'waste' of processing to be recycled to the land for sustainable farming. All our products are packaged on the Estate, further reducing carbon footprint. We are able to guarantee our all natural products from seed to finished product.
Sustainable Agriculture Training
Kahangi Estate Sustainable AgricultureTraining Centre teaches the methods of sustainable agriculture and organic certification, and more than 800 students from Uganda, Rwanda, Congo and Tanzania have benefitted from its practical and theoretical training. Micro climate is monitored along with soil structure on the farm to provide evidence of the effects of sustainable farming methods on local climate. The methods of organic farming and sustainable processing used on Kahangi Estate are described on our website as part of our commitment to training and education for sustainable agriculture in Africa.
Sustainable Power Sources


The Estate has a long and colourful history. It was founded in 1916 as a Coffee Estate, changing in the mid 1930s to a Tea Estate and abandoned in the 1980s. Since 2000 Kahangi Estate has been rehabilitated to grow its range of organic crops. Buildings and equipment have been developed for sustainable processing. There is no mains electrical supply to the area and the Estate has gone to great lengths to develop sustainable power sources to process its products. 70% of the energy used to process and pack the products of Kahangi Estate comes from purely solar power.
Since 2006 bio fuel is processed from the Candle Nut Tree (Aleurites Moluccana). The tree is cultivated on the Estate both as an ornamental tree and also as a windbreak. The nuts are harvested from the trees, dried crushed and processed into the biodiesel fuel which supports the solar power for processing.
Coffee Wastewater Management System
Director of Kahangi Estate, Alan Tulip, after years of extensive research into recycling coffee waste, has developed a pioneering system, originally installed at Kahangi estate, which can be used for large and small wet coffee processors. The coffee wastewater system relies on using natural means to break down the coffee wastewater, allowing it to be usefully recycled or discharged without massive negative impacts on the environment. Systems have now been implemented in Congo, Papua New Guinea, Indonesia and Vietnam, as well as Uganda
Kibale Forest – Commitment to a Sustainable Future
The Kibale Forest National Park is home to 11 species of primates, 325 identified bird species and 229 identified tree species. The park is also notably the home of Coffea Canephora the original wild variety of Robusta Coffee which covers about 78 km² of the forest. The forest is also part of the annual migration route for elephants and during the period September to November elephants are a frequent sight on the boundaries of Kahangi Estate. Endangered trees are planted on the estate and wetlands and papyrus swamps preserved as part of its commitment to maintaining the bio diversity that supports the bird and wildlife of this very special environment.